Extremities have launched a new range of reflective gloves and hats and they're perfect for improving visibility in low light conditions. They protect you from the elements and are a must-have accessory during the winter months. Reflective hats and gloves not only keep you warm but make you seen by other road users. Here are the best reflective hats and gloves by Extremities:
Maze Runner Reflective Gloves
Our best reflective gloves for runners are the Maze Runner Gloves. Designed with Extremities X Glo reflective technology, the gloves look subdued in daylight but come alive in a reflective rainbow when hit by a bright light. The Maze Runner accessories have reflective features, alongside their windproof and breathable features. Extremities X Block membrane blocks the cold wind out, keeps your body heat in, and lets perspiration escape. Therefore, you'll feel at a comfortable temperature whatever you're doing.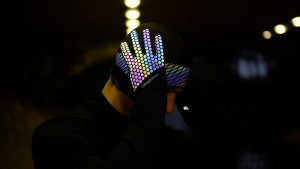 The stretch fleece palm is covered with a silicone grip, allowing you to have a firmer grip during your outdoor activities. The Maze runner gloves offer a close enough fit to grip your phone, step-tracker, or tie your shoelaces. These are also touch screen gloves, making them quick and easy to use devices without exposing hands to the elements.
The Maze Runner Reflective Hat
A fantastic paired piece to match the Maze Runner reflective Gloves, the Maze Runner Took is ideal if you're looking for a little more weather protection and to increase your visibility during the winter months. Made with the same materials as the gloves, the reflective hat shines bright once hit by a light source, therefore, keeping you more visible to road users in poor light conditions. Extremities X Block windproof fabric keeps the wind chill off your head, maintains your body heat and releases perspiration, keeping your head comfortable during exercise. The Maze Runner Took is designed with a covered gap in the side seams to make wearing glasses or headphones easier.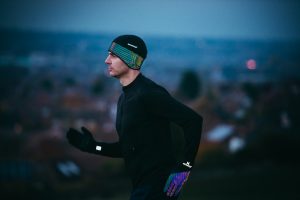 Thinny Touch Reflective Gloves
The Thinny Touch Reflective Glove is perfect for those looking for a lightweight, knitted reflective glove. They include hidden reflectivity in the stripes around the glove and show their worth when daylight fades. These thermal gloves are great for keeping in your running jacket pocket in case the weather turns chilly. This close-fitting style is also a touch screen glove – equipped with touch screen fingers and thumbs enabling phone use without exposing your hands to the cold and disrupting your run. Not only are they great for running, but as an everyday pair of thermal gloves that help keep you visible during low light day-to-day activities.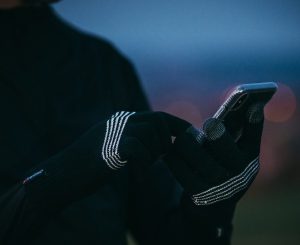 Aurora Reflective Glove
Brand new for autumn/winter 21, the Aurora glove features Extremities X Dry and X Glo technology to provide a waterproof, breathable membrane with a reflective panel on the back. Perfect for evening walks with the dog or other outdoor activities, the Aurora glove is as luxurious to the touch as it is to the eye. With an insulated fleece lining and touchscreen technology, the timeless grey and black design will suit all outfits, anytime.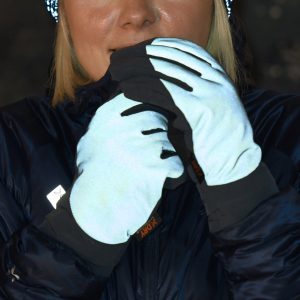 Keeping safe and visible in winter is essential, and Extremities' reflective gloves and hats are one step closer to achieving this.