If you've ever been in a rush to get out of the door to walk your dog, especially in winter, you'll probably have forgotten something at some point. We've put together a winter dog walking checklist so you'll never forget the essentials, keeping you and your dog winter safe.
Protecting yourself
In winter, it's cold, dark and mostly, pretty wet. Taking some time to make sure you have what you need in every eventuality will help you a lot when you're out walking. Make sure you have the following:
What to wear
Dropping temperatures mean colder walks and there's nothing worse than having cold hands and ears when out walking. Make sure you invest in a good pair of gloves and a hat. Extremities has a great range of thermal, windproof and waterproof gloves and hats which will suit a variety of weather conditions. Here are some products that we'd recommend:
Windproof Gloves
Windproof gloves will help to keep the windchill away, especially if you're holding a lead.  The Falcon glove is lightweight, with wind-cheating XBlock windproof technology. It offers full protection from biting winds and is a good choice if you're out at any time of year in windy weather.  There's a touchscreen finger and thumb, so you can use your phone or other touchscreen devices. It's perfect if you like to listen to music as you walk. They're breathable too, with a tough Amara grip on the palm and fingers. They're also water-resistant, providing protection from light showers.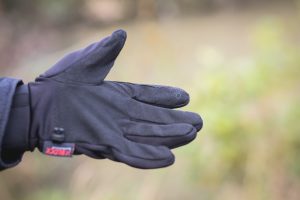 Waterproof Gloves
For when you need complete protection from the wet, the Waterproof Sticky Powerliner glove is a perfect choice. As a thermal glove with a waterproof, breathable membrane, they'll ensure your hands stay warm without being sweaty. Enjoy warm, dry hands on every walk. If you need to take the gloves off, they're not too bulky to stash in a pocket, making them another good choice for year-round use.
If you're after a more traditional style of waterproof glove for walking your dog, the Extremities Winter Glove fits the bill perfectly. The brushed lining not only adds extra warmth but also makes the glove extra easy to slip on and off.  Made with X-Dry technology, it is waterproof and breathable.  Perfect for those long, winter rainy walks with your dog.

Multi-Purpose Gloves for winter dog walking
If the weather turns really cold, or you suffer from hands that get cold easily, the Paradox Gloves are very warm.  The Primaloft insulation and cosy brushed lining will create a warm haven for your hands.
All Extremities gloves come with washing instructions, but just remember to use pure soap flakes or a specialist wash, as ordinary detergent and fabric conditioners will affect the performance of waterproof and windproof gloves.
To view all Extremities hats and gloves recommended by us for dog walking click here.