Whether you're a solo camper or a family of 6, a visit to the Peak District can be a memorable adventure. The Peak District has plenty of outdoor activities to offer, ranging from hikes, biking, climbing and even canoeing.
We have compiled our knowledge to provide an overview of the best campsites and wild camping tips to make your visit to the Peak District a great one. Guaranteed to offer great views, with walks being a stone's throw away, our list of the best places to camp is guaranteed to make your break in the Peak District unforgettable. Grab your tent and sleeping bags and head to the Peak District!
Best Campsites in the Peak District
Crowden – Camping and Caravanning Club Site
This campsite sits in the northern part of the Peak District, which is renowned for its beautiful walks and views. It is the perfect site for a relaxing walk along the multiple footpaths or a longer walk along a stretch of the Pennine Way. Being surrounded by nature, you have the chance to see plenty of wildlife, ranging from falcons and eagles to red kites, all on your doorstep.
Dates: 1st April to 31st October
Prices: From £8.60 per night.

Upper Hurst Farm, Hartington
This campsite sits in the heart of the Peak District National Park, with many scenic walks and market towns within driving distance. Don't fancy getting in the car? There are plenty of beautiful walks right on your doorstep. Upper Hurst Farm also has great activities for your children, whether that's the playground or the friendly ponies, alpacas or peacocks.
Dates: Open all year round
Prices: From £31 per night.

Hayfield – Camping and Caravanning Club Site
This campsite is perfectly positioned near the Kinder Plateau, surrounded by woodland and its own stream flowing alongside the campsite. Whether you are planning to hike up Kinder Scout or go on a relaxing walk along the surrounding peaks, this campsite offers walks with beautiful views for all walkers. It has something to offer for all the family, whether that's the on-site playground or the nearby "The Sportsman" pub which does excellent food.
Dates: 1st April to 31 October
Prices: From £8.60 per night.


Middlehills Farm Campsite, Grangemill
This Campsite is located on the edge of the Peak District, near plenty of beautiful historic towns like Bakewell, Ashbourne, Matlock and Buxton. The surrounding area also features great walking and biking spots for a fun day away from the campsite. Alternatively, stay at the campsite for the day and enjoy the excellent play area with your children, or simply relax in the sun to take in the beautiful views.
Dates: 29th April to 25th September
Price: From £18 per night

Newfold Farm, Edale
The recently renovated, family-run campsite based at the foot of Kinder Scout, is a great base for your camping holiday full of hikes, cycles and hilly adventures along the Pennine Way. Whether you fancy a relaxing slow-paced village life or an adventurous weekend of hiking up the highest points in the Peak District, Newfold Farm has something to offer for everyone. The campsite has a lovely local pub with outdoor seating and a stone oven pizzeria nearby, where you can spend your evenings with your family.
Dates: 1st March To 31st December
Prices: From £22 per night

Now that you have a good overview of the top 5 campsites in the Peak District, it's time to think about your tent. Check out the Wild Country Zonda Family Tents to truly make your family camping adventure unforgettable.
Already got a family tent but fancy an upgrade? Trade it in with us to get 30% off a new Zonda Family Tent on our website. Alternatively, find your local Zonda stockist here.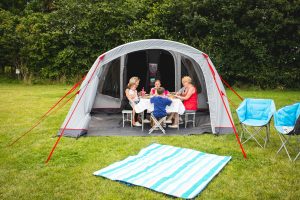 Wild Camping in the Peak District
The Peak District is a beautiful national park, which many enjoy by wild camping in a variety of locations across the park. However, the rule in the Peak District is that wild camping is illegal as the land is privately owned, therefore, you have to seek permission from the landowner to be able to legally wild camp there.
If you follow these simple tips and are respectful to the wildlife, wild camping in the Peak District is usually tolerated; however, we recommend seeking permission from the landowner before pitching up.
Most importantly, LEAVE NO TRACE: The only sign of your wild camp should be the flat grass your tent was pitched on.
Do not start fires for any reason, use a cooking stove or Trangia instead.
Take all of your waste and anything else you have brought with you back home.
Pitch up late at night and leave early in the morning.
Do not stay longer than 1 night at a time.
Before heading off on a wild camping adventure, make sure your gear is up for the challenge.
Check out our detailed wild camping guide if you are new to wild camping or want to brush up on your wild camping knowledge.
Best wild camping spots in the Peak District
There are many spots in the Peak District where you can wild camp; we recommend keeping an eye out for any spots when you are out and about on walks in the Peak District. Here are a few areas in the where you can start looking for a wild camping spot of your own:
Kinder plateau, this area is very big which means there are plenty of wild camping spots and a lower chance to bump into someone.
Derwent has many flat areas and if you pitch in the right spot, you will have a view of Ladybower Reservoir.
Bleaklow and the surrounding areas also have many flat spots, perfect for pitching your tent. The B29 U.S. Air Force bomber Crash Site is also nearby which could make for a great exploration.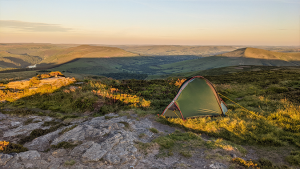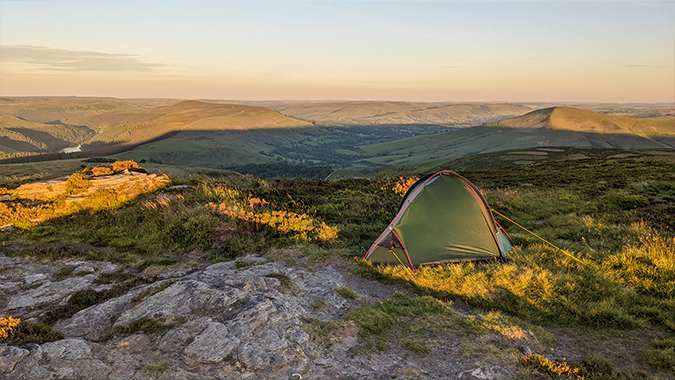 Not got a tent yet or need an upgrade? Then check out our extensive tent range with many lightweight and compact backpacking tents to get you ready. We also offer 30% off a new tent if your old tent isn't up for the challenge.
If you are struggling to find your own spots, then head over to our wild camping guide to learn how to find your own spots and the techniques we recommend using.