Read Voyager XL tent pitching instructions below:
Lay out the inner tent.
Carefully assemble each of the 4 poles. Ensure all the joints are fully connected.
Slide the poles through the inner pole sleeves shown as dotted lines on the diagram below.
Insert a pole-end into the outermost eyelet of each inner eyelet tape. These eyelet tapes are located at points A, B, C, D, E, F above. The inner tent will now be standing.
Throw the flysheet over the inner tent.
Hook flysheet eyelet tabs to pole end-tips.
Insert the shorter, black pole through the black flysheet pole sleeve. Locate each end in the eyelets provided at G, H.
Peg out the tent, using the guys and elastics provided.
Remember to adjust the flysheet tension as conditions alter, as the flysheet will tighten in strong sunlight and slacken if it gets wet.
The Voyager XL is supplied with the following:
4 x alloy poles, (3 blue, 1 black)
19 x titanium pegs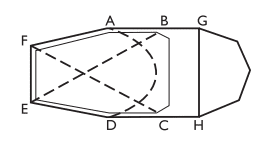 The Voyager XL has been discontinued. We'd recommend the Voyager.