Inflatable Family Tents
We've designed and developed a range of inflatable family tents that complement the existing Wild Country and Terra Nova ranges. Using the expertise that stems back over 35 years, this range has been thoughtfully created with you in mind. The Zonda tents feature the high-quality materials that you'd expect from Terra Nova Equipment, so this makes us confident that these tents will be enjoyed for years to come. The inflatable tent range includes 4 person, 6 person and 8 person air tents, alongside an inflatable drive-away awning. So, whether you're heading off with family or friends on a camping trip, or exploring in a campervan, we have something to you.
Zonda Range of Family Tents
Designed in Derbyshire, our experts here at Wild Country have used their knowledge to create the perfect combination of useful features, reliability and easy to use family tents. This removes the hassle of camping to make your family camping trip as enjoyable as possible. The Zonda's versatile design has some handy features, such as an oversized tarp style tent bag making it easier to pitch and pack away.
Our AirFlex poles provide excellent stability and have a 10-year guarantee. They inflate easily with the supplied slim-line double action hand pump with a built-in pressure gauge. A comprehensive repair kit and inflation valve tool are also included for convenience. The Zonda's light and airy colour scheme feature red tape guy lines. These are both easy to see and aid pitching thanks to their secured substantial V style steel tent pegs. The reflective side guy lines are quiet in use and provide effective security in blustery conditions. The flysheet is made of a robust, 150 denier rip-stop polyester fabric that has been factory seam taped and waterproof tested to a 6,000mm hydrostatic head.
Zonda 8EP
The Zonda 8EP is a great tent for up to eight people that provides a very large living area. Whether you are having a long weekend break or an extended family holiday the 8EP is a perfect choice. For such a large tent it is straightforward to pitch and also easy to pack away thanks to the oversized tarp style bag. Once folded simply roll the tent into the bag, tighten the compression straps, pull the draw strings and you are done.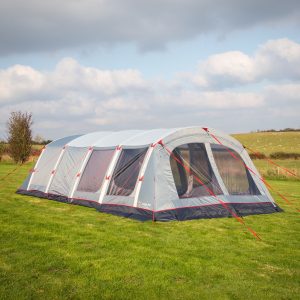 Zonda 6EP
The Zonda 6EP is ideal for weekends away or longer family holidays. Each inflatable tent model features an extended porch (EP) which has a detachable bathtub-style groundsheet providing maximum versatility no matter the weather. The Air Flex poles (which come with a 10 year guarantee) combined with a rectangular floor plan make pitching swift and simple plus the innovative oversized tarp style tent bag makes packing away a breeze.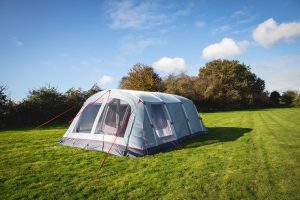 Zonda 4EP
Perfect for smaller families or couples the Zonda 4EP has all the great features of the other models in a more compact version. The smaller dimensions allow the use of 10cm diameter Air Flex poles that contribute to a smaller packed size making the Zonda 4EP ideal for weekend getaways.